What is electrical muscle stimulation (EMS)?
Electrical muscle stimulation (EMS), is the method of muscle contraction by using electric impulses. The EMS training achieves the same results in 20 minutes as with any other conventional training you can achieve in several hours, working more than 300 muscles at the same time. So the effectiveness and achievement of objectives are guaranteed.
Uses of electrical muscle stimulation
The electrical muscle stimulation training has recieved a lot of attention in the last years because of the versatibility of its uses. It is used by PRO athletes as well as amateur athletes who want to achieve different goals. Here are some of its uses: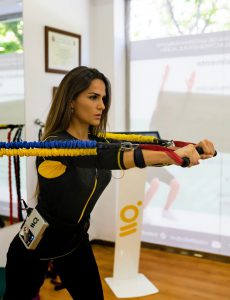 It is used as a strength training.
It is used as a rehabilitation training.

It is used as a testing tool for evaluating the neural and/or muscular function.

It is used as a post-exercise recovery.

It is used to lose weight.

It is used to shape the body figure.
Benefits of the electrical muscle stimulation
As said before, an EMS training achieves the same results in 20 minutes as with any other conventional training you can achieve in several hours, working more than 300 muscles at the same time. So, here is a list with some of the benefits that an EMS training achieves:

Models your figure
Tones your body
Produces endorphins
Relieves joint pain
Improves postural control
Strength gain
Strenghtens back´s muscles
Recovers injuries
Strenghtens the pelvic floor
Antiaging effects 
How does electrical muscle stimulation work?
The EMS system works via a device that is divided in three parts:
An EMS suit with electrodes.
A device to send the electrical impulses to the electrodes.
A software or an APP to control the electrical impulses with a training screen.
In Gnesis EMS we developed the most sofisticated EMS suit: our "Golden Star", the "Gsuit". It is the most evolved EMS suit you can find. Made from a seamless stretch fabric, it can be worn with workout clothes underneath. Our main objective was to eliminate straps, visible wiring, thick and uncomfortable sheathed electrodes, which limit movement. Its weight is 700 gr with wiring and electrodes. It fits the body perfectly. It can be washed directly with the electrodes. The electrodes, so as not to lose the sensation of perfect adaptation of the suit to the body, are "Ultra Slim". The wiring is completely hidden, giving a clean and elegant image of the EMS suit.
We developed a special electrical muscle stimulation device that we named "Gbox". From the Gbox, made of the highest quality aluminum, you can increase or decrease the intensity, pause o re-start the training and check the level of battery through the led lights. You will also be able to use it with any android device (smart phone, tablet…).
Through our APP you can control all the training parameters and functionalities in a fast, easy and intuitive way. You are not "tied" to a machine or screen, because with our App you can work from any other device (tablet, mobile, smartphone …), with or without an internet connection and with total freedom of movement.
In this video you can see how does an electrical muscle stimulation device works.
Medical studies about electrical muscle stimulation
Medical research is important, so looking for some medical studies is recommended before starting any EMS training. Here are some useful medical studies for you to read:
To conclude, we can say that an electrical muscle stimulation training is fully recommended to achieve a complete workout. Of course you have to set your training objectives and goals in the first place.
In Gnesis EMS we offer the highest-quality EMS devices for you to achieve your training objectives with a full comfort. Check our products to see it for yourself.
Remember that no workout is usefull if you do not have an appropiet diet, hydration and a good sleep. Excercise is a good way to prevent stress and having a good quality of life.
Do not hesitate in writing to us at info@gnesisofficial.com for any inquire or call us at +34 633 94 77 21 or at +34 633 44 89 48. We will get back to you ASAP.