Electrical Muscle Stimulation Devices
In previous articles of this blog we have talked about what an EMS training is for, the benefits it brings, what basic devices are needed to carry it out and how they work, and even medical studies that support the results and safety of the devices. In this article we will take a closer look at wireless electrical muscle stimulation devices.
It is worth mentioning that within this new and powerful technology, there is a wide range of different designs developed to satisfy the user's experience.
Gnesis EMS engineers, by listening to the needs of EMS training customers, have developed a device that meets all of them to make the experience seamless. Not only did they look for customers to achieve their goals by getting great results, but the development was based on the quality of the training experience to reach those results, and they have found a very distinctive common need for absolute comfort.
Wireless Electrical Muscle Stimulation technology
One point that all customers agreed on is the need to use a device that is not plugged into a machine. Not only because of the sensation of being plugged into a machine, but also because for effective training, absolute freedom of movement is needed. This is why the wireless electrical muscle stimulation system that Gnesis EMS offers its customers was developed.
Many of our customers are involved in sports that require specific training for each individual, and for these they need an EMS device with wireless technology that gives them complete freedom of movement. Many of them choose Gnesis EMS for training or improvement, for example:
To perfect their golf swing.
To perfect the boxing punching technique, or any martial art.
To perfect tennis and paddle strokes.
To do football training with or without a ball.
Throw and catch baseball training.
Basketball throwing training.
For aerobic training.
For general strength training.
It has been demonstrated that to achieve these types of movements with total comfort, in addition to a suit tailored to offer freedom of movement, a device with wireless electrical muscle stimulation technology will help to achieve it.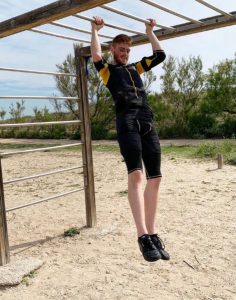 In this way, the client is not tied to training within four walls. With a wireless device, you can train outdoors without a problem because you don't need to plug the equipment into a machine. Our G-Box connects with Bluetooth and from it, you can modify the parameters of your training session. Whether you want to jog in the street, train on the beach, in a park or even in your garden or in the living room of your house, this is possible.
Moreover, we know how cost-effective it is to train groups of customers at the same time. Therefore, to train a group of clients at the same time, a wireless device offers absolute comfort. Gnesis EMS is intended for this type of business, where if the client gets a good experience and good results, then the gym owner or personal trainer using Gnesis EMS will have higher profits as a result. In a Gnesis EMS ecosystem, everyone benefits.
Gnesis EMS is developed to be able to train an unlimited number of clients at the same time and offer them personalized individual or group trainings simultaneously from a tablet or smasrt phone.
For a client to be satisfied, so must be the trainer who trains him, that is why the app and the systems that Gnesis EMS offers are developed for both to enjoy a training experience that meets the needs of both.
Gnesis EMS Wireless device
If you want to know more about our products, click here to see the wireless devices we have to offer. In this link you will have the necessary information about our APP, which is the system that controls all the Gnesis EMS equipment in an easy and intuitive way, where you can create unlimited training programs without even leaving the training screen. Our trainers thank us for the distinctive functions that the APP offers to carry out their work in a more simple and comfortable way. For safety, you can also monitor heart rate on the training screen and calories burned. As if these were not enough, customers can receive an email with the information of the training session, with the results second by second, with a single click.
By clicking here you can see the features of our G-suit, tailor-made for a perfect training experience. With G-Stretch Technology, it offers a body-absorbing fabric with maximum flexibility. With Ultra-Thin Electrodes for training as if you were wearing nothing at all, with Anti-Bacterial Technology for maximum hygienic training. It is easy to put on the G-Suit thanks to its Zip&Train System, in just one step, and being made in two parts and not being a jumpsuit, the suit adapts perfectly to the figure of any body.
If you need extra information, you can visit our networks and keep up to date with the information that Gnesis EMS offers to its followers.