Electrical Muscle Stimulation and Sports
The benefits of electrical muscle stimulation in human body are already well known, and if you still don´ t know them you can check our last post in which we introduce the electrostimulation to you. These benefits apply as well to athletes, both professionals and amateurs. So, EMS and sports are strongly linked together. Because of its efficiency and its presicion, electrical muscle stimulation takes training to the next level, achieving better results.
Why do athletes train with electrical muscle stimulation
Every day the competition becomes more difficult as training methods evolve over time and athletes constantly seek to break their own records. Thanks to the electrical impulses that the EMS devices send to the electrodes, and these stimulate the muscles, these contract increasing the intensity of the exercise multiplying the benefits of the training.
Because of this, athletes of different sports all over the world, prefer an electrostimulation training. Sports such us football, american football, tennis, basketball, baseball, rugby, athletics, golf, and many more, have athletes making use of the EMS benefits. With our high quality devices, these benefits are even greater and they are achieved in a more pleasant way. Every day more athletes train with Gnesis EMS.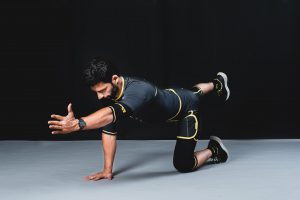 Electrical muscle stimulation benefits in sports
A more personalized training can be done with electrical muscle stimulation. Physical trainers use this method as a technique adapted to each person to do so, and the vigour of it will depend on the intensity that the person is able to withstand. Both professional athletes and amateur ones enjoy the following benefits:
Reduces joint load to articulate.
Improves of the muscle blood circulation.
Higher performance.
Stimulation of fast fibers.
Improves endurance.
Improves post training recovery.
Maintain muscle density much longer than a conventional training.
Improves explosive force.
Achieves faster results.
Prevents late muscle soreness.
These benefits are linked by one major charasteristic that makes all this even better. Electrical muscle stimulation workouts achieve results in just 20 minutes per session, which leaves us with the most precious element of all: time. Time for personal use or time to achieve even better results and become more competitive.
Our Gnesis 3.0 system offers a graphic chart with the results of our clients work out. A more detailed inform helps to optimize the training and get to the goals our clients are looking for in a more effective way.
Everything is meassurable in an electrical muscle stimulation training with Gnesis EMS: 
Calories burned during the training session.
Maximum heart rate recorded during training.
The variation in intensity of each muscle group.
The different programs that have been used during training.
Time and Hzs.
Muscle secuences used while training.
And much more…
It is well known that in order to achieve greater results, not only in sports but in every aspect of our lives, a healthy routine and a healthy diet will help to do so. So time is a very important factor for this aspect because it will help in doing both routines in a more relaxed and conscious way.
The next post on this blog will be about how a healthy diet and an electrical muscle stimulation training may help us in living a healthy life.
Please find more information of EMS in our website, and do not hesitate to check our Instagram and Facebook to see some informative posts about it, and our Youtube channel to watch the coolest videos of Gnesis EMS.
Achieve a profesional training with Gnesis 3.0 in your nearest sports center or with Gnesis Home at the comfort of your own home.